27WON Performance Exhaust Launches for the 2016+ Civic SI Sedan
The team at 27WON Performance is proud to announce the release of the ONLY performance exhaust designed specifically for the SI Sedan and tuned for the L15B7 turbocharged engine. However, these aren't the only things that makes the our cat-back exhaust system unique and special.
When we approached the SI Performance Exhaust, we knew we could NOT just put a pair of round tips on it like almost EVERY other option on the market. Our exhaust needed to not only sound great but visually compliment the SI's body lines as well.
With this goal we set about to design an exhaust system, with special attention on the exhaust tip, that was visually more a part of the SI. This leads into the most unique aspect of the 27WON SI Sedan Exhaust. YOU…the Community helped design this exhaust system. It was our questions and your responses that truly inspired the final design that's now available.
The backstory…We asked the community on social media and

CivicX Forum

for ideas:
"What sort of tip design do YOU want to see; 2 tips, 3 tips, slants, ovals, burnt, polished, etc.

You guys delivered, especially

iShift_6 on CivicX Forum

. He actually created renderings for the 27WON Team to review and design from!
We created numerous designs in the form of rough sketches and CAD models. We chose just a few to make into a complete CAD model and sample. Check them out below: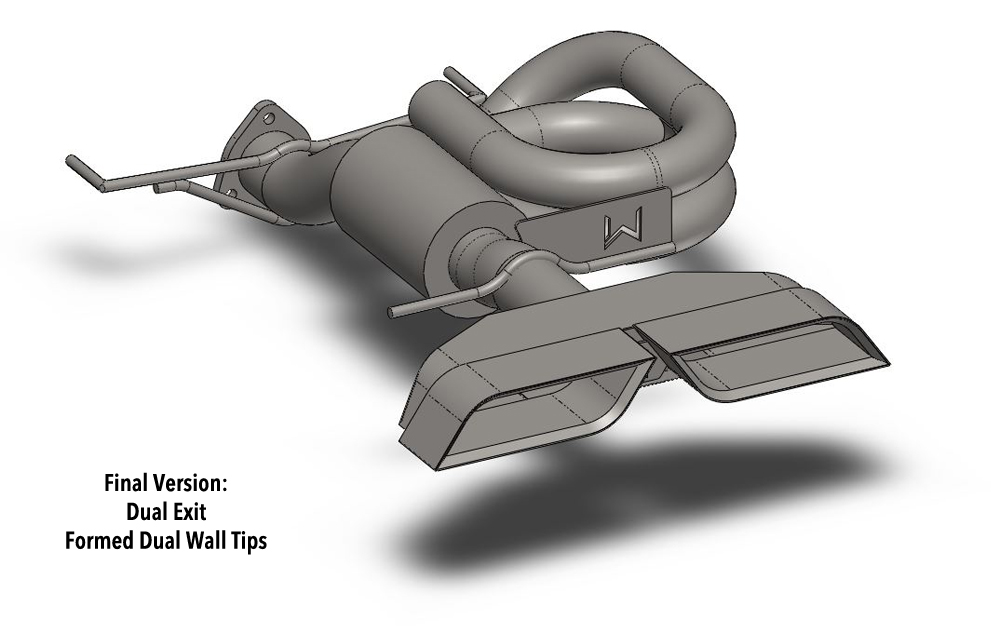 It was the 4th iteration that checked all the boxes. It compliments the lines of the CivicX with dual tips that fill out the exhaust cutout in the bumper and was the most manufacturable of the iterations.
If you've been following the development of the 27WON SI Sedan exhaust then you know all about our unique side branch resonators. For those of you that haven't check this out:
These tubes are a key to the 27WON Performance Exhaust and one of the things that truly sets this exhaust apart from the rest. Each side branch resonator is tuned to cancel a specific drone frequency that would otherwise make driving your 2017+ Civic SI an awful experience. In testing we found excessive drone at ~3000rpm (highway cruising) and ~4200rpm (spirited driving). With the side branch resonators we were able to eliminate this drone and produce an exhaust note that is loud and aggressive when when you want to hear it but quiet and pleasant on the daily commute.
The team at 27WON Performance is beyond excited to bring the SI Sedan Performance Exhaust to the community. The community involvement that went into this project makes it something truly special to us.
Thanks for you input, Let's do it again real soon ;)
I Dare you to REDEFINE the Aftermarket
-Barett