A Performance Turbocharger for the Honda Civic WITHOUT Compromise Pt.2
Last time we got into some of the basic anatomy and function of a turbocharger.
If you're coming in fresh than take a few minutes to check it out here. Today however we are going to take our first step into the 27WON Performance Turbocharger for the 2016+ Honda Civic.
When we started development of the W1 turbocharger we set goals for power, response, reliability, and most importantly fitment. Now I promise we will get into those first three points soon enough in the coming blogs; but today I want to focus in on fitment and why this was and still is so important to us.
Like any complex project, turbo development takes time.
We've been diligently working on this secret project for you guys and gals for a while. We've worked hard to develop a turbocharger that doesn't force you to give up all of your hard earned parts. Every performance part that bolts up to the OE turbocharger will bolt up to the 27WON Performance Turbo. We call this a 'drop-in' turbo. You get everything you need to install it and it works with what you already have!
Now with this goal of drop-in, we had some serious constraints to work within and overcome.
It is possible to get 'drop-in' fitment by reworking your factory turbo. For us however, we felt the only true solution for the 10gen was to start from scratch.
By starting with a whole new casting we eliminate the need to send your turbo to us and wait (with your car disabled) for us to return it to you modified.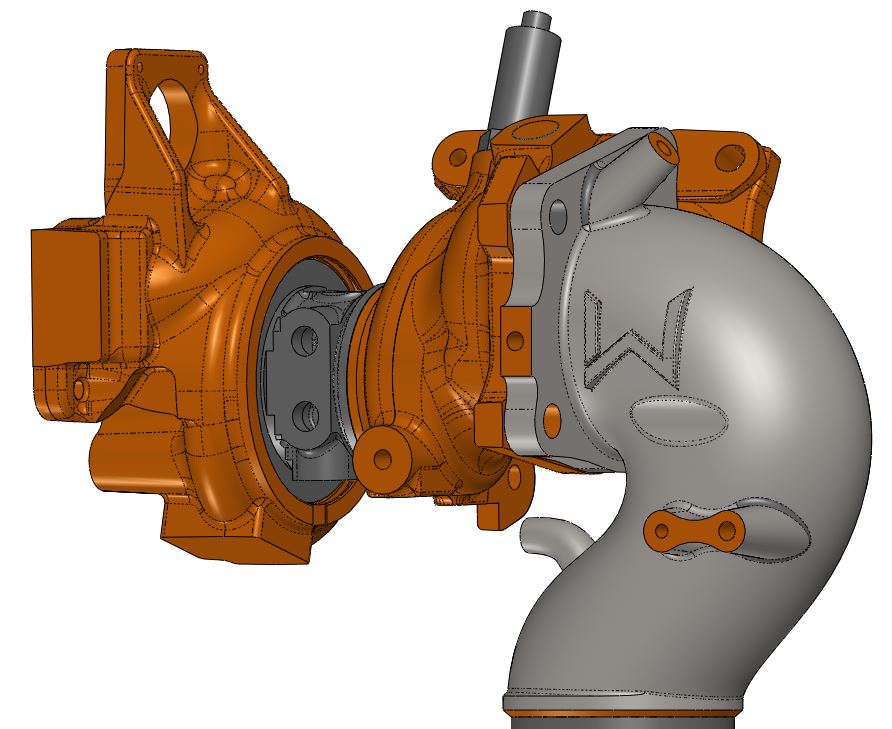 Be sure to click below to find out more on our upcoming 80mm Downpipe
Starting from scratch also allows us to make other improvements like the use of a larger more robust CHRA and larger more reliable bearings. However, this came with its challenges. The CHRA used in the OE turbo is proprietary to the L15 which means we had to design properly fitting and functioning oil and coolant lines for the W1 Turbo.
That's right; each 27WON turbocharger will include all the necessary coolant hard lines, oil feed hard line, braided hose, and engine block fitting that retains the oil screen, as well as all the hardware and MLS gaskets required for the turbine housing. When we say 'drop-in' we mean it.
Saving the best for last, starting from scratch also allowed us to optimize the compressor and turbine housing for the larger wheels. This is what generates the extra power.
Let's recap:
Every single W1 turbo is 100% new; no core charges, no waiting period, and no downtime.
I'll leave you with just a tease of that sexy billet compressor wheel until next time when we start getting into the design aspects that really affect performance and response. Look for our next update on Friday the 13th(of April).
Thanks for tuning in with 27WON Performance.
I Dare you To REDEFINE!
-Barett @ 27WON