FK7 Exhaust, The Experience
*Note* They are not called cat-back exhaust systems on these newer chassis due to the catalytic converter actually being housed in the down-pipe and not later down the exhaust pipes.
Customer Stuart from Wisconsin said;
"I ordered 27WON's new exhaust for my '17 Civic Sport HB, and I couldn't be more impressed with the sound and quality of the product. Makes a night and day difference compared to the silent stock exhaust. Installation was not bad at all with the detailed instructions, and the service Vincent provided me when I needed it was exceptional. Would highly recommend 27WON to others and will definitely consider 27WON for any potential future mods. "
Now that Stuart mentions it; remember that every 27WON performance product purchased comes with full color step by step instructions so that install is a breeze. We recommend downloading the mobile Dozuki App and checking them out.
Check out what Anh Ngo had to say about our exhaust system for the Hatchback Sport:
"As a new comer into aftermarket car parts and learning about automotive; I must say Vincent at 27WON Performance has given me a lot of new knowledge. The way he was motivated to explain and answer questions I had was awesome. He was detailed on many aspects and let me have some hands on as we installed the new exhaust system they have engineered. The experience was awesome and the product is a quality piece. After installing we even took a test drive so that Vincent can explain further about the system and we did some sound tests. I appreciate the encouragements and inputs he has given me and will definitely be back for more performance parts to be released. Definitely recommended shop and great service!"
One of our guiding principles is educating the Honda enthusiast and we make sure that we do as much as we can to put knowledge and power in your hands. Things like our full instructions, product videos, and even blogs like this are intended to help you get the most out of your tenth generation Honda Civic.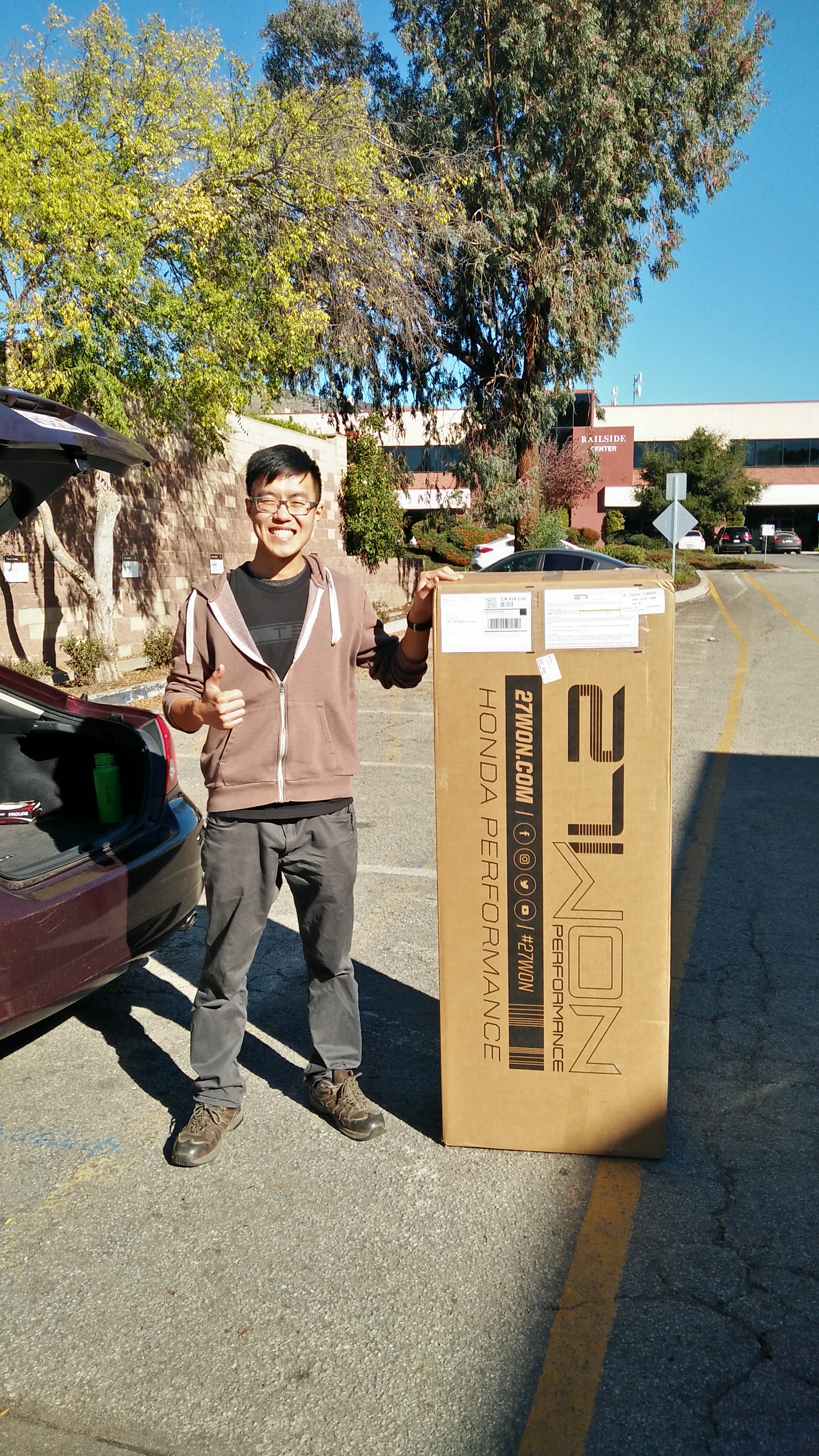 Heck look how excited Ricky was below to receive the first ever sport hatchback exhaust from 27WON.
The thing is this. We know that you guys work hard for your car parts. You save up days, weeks and sometimes months to give your car the love it wants and we recognize that. Buying car parts and modifying them isn't something we just do. It's more than that. It's a bond we create with our cars, our friends, our community. It's something special and something that means alot to us. It's an extension of our personality. Our car is something that sets us apart from the crowd. It's the experience that we love. We that 27WON promises to deliver this in everything we do.
That is how we REDEFINE the Aftermarket
-Vincent